Each cold and heat meter brand has its own characteristics, and there are still some differences in the equipment models and other aspects of the production, so we must take the overall comparison.Only in this way can we know which brand of products is more. The price is more reasonable if it meets our requirements. Faced with many brands, many consumers may not know how to choose. In fact, choosing this type of product is very simple. You only need to determine your own needs.
As one of the seven strategic emerging industries in my country, new materials are the industrial basis for the transformation and upgrading of the entire manufacturing industry. In 2016, the "13th Five-Year" National Strategic Emerging Industry Development Plan clearly stated that it is necessary to "promote breakthroughs in the development of high-end equipment and new materials industries, and lead a new leap in manufacturing in China". By 2020, we will strive to bring several new materials into In the global supply chain, the self-sufficiency rate of major key materials has reached more than 70%, and my country has initially realized the strategic transformation from a material country to a material power country." In order to better promote the development of the new material industry, the China International Industry Fair New Material Industry Exhibition held the new material industry professional exhibition for the first time in 2015. It has undergone 3 sessions of development, from nearly 50 companies in 2015 to 2017. Nearly 200 exhibiting companies have an exhibition area of 11,000 square meters. While focusing on scale development, they are also constantly optimizing the quality of exhibiting companies and professional visitors.
The 2018 CIIF New Material Exhibition will continue to spare no effort to create a domestic material event. It will be held at the National Convention and Exhibition Center (Shanghai) from September 19 to 23, 2018. Let's take a look at the 5 of the 2018 CIIF New Material Exhibition. Great feature.
5 highlights of the 2018 CIIF New Materials Exhibition
1. Make full use of the advantages of the platform to help coordinate the development of upstream and downstream
After years of hard work, my country's new material industry has made great progress, but it is still in the stage of cultivation and development. Compared with the world's advanced level, there is still a big gap. In particular, the disconnection between production and application and insufficient guarantee in key areas are very prominent. The New Materials Industry Exhibition of the China International Industry Fair utilizes the advantages of advanced equipment manufacturing and industrial resource platforms accumulated during the past 20 years of the China International Industry Fair to provide materials companies and downstream industrial users with an excellent platform for business negotiations and technical exchanges. Downstream users fully communicate and communicate to help material companies understand market trends and user needs, continuously improve and improve processes, and ultimately achieve the coordinated development of upstream and downstream. Take the Robot Exhibition of China Industry Fair as an example. Every year, well-known domestic and overseas robot body companies, key parts companies (servo motors, sensors, reducers, etc.) and supporting companies (robot flexible cables) are gathered to participate in the exhibition and visit. Alloys, carbon fiber composite materials, insulating materials, engineering plastics, high-performance magnetic materials, semiconductor materials, etc.) have created an excellent communication platform. The CNC machine tools and metal processing exhibitions, industrial automation exhibitions, energy saving and environmental protection technology and equipment exhibitions, The Information and Communication Technology Application Exhibition, the New Energy and Electric Power Exhibition, and the New Energy and Intelligent Connected Auto Show will also make full use of the resources of their respective industry chains and the advantages of end users, and interact with various relevant cutting-edge new materials companies. Really combine materials and downstream applications and implement them, so as to better promote the rapid and healthy development of the new material industry.
2. Establish subdivided special areas, display the entire industry chain, and enhance the value of exhibitors and audience experience

The 2018 New Materials Industry Exhibition combines hot industries and key materials to subdivide and set up key exhibition areas, rubber and plastic exhibition area, industrial gas, equipment exhibition area, graphene exhibition area, automobile lightweight exhibition area and green environmental protection exhibition area. It not only displays raw materials, but also surrounds The industry chain where the material is located displays the relevant technology and industry solutions of the material, and realizes the display of the entire industry chain. Material manufacturers can not only directly contact downstream industry users, but also understand the market conditions such as raw material prices and inventory, which greatly enhances the value of exhibitors. For industry professional visitors, the subdivided exhibition area also helps professional visitors to find related materials and material solutions more quickly and effectively, saving time and improving efficiency.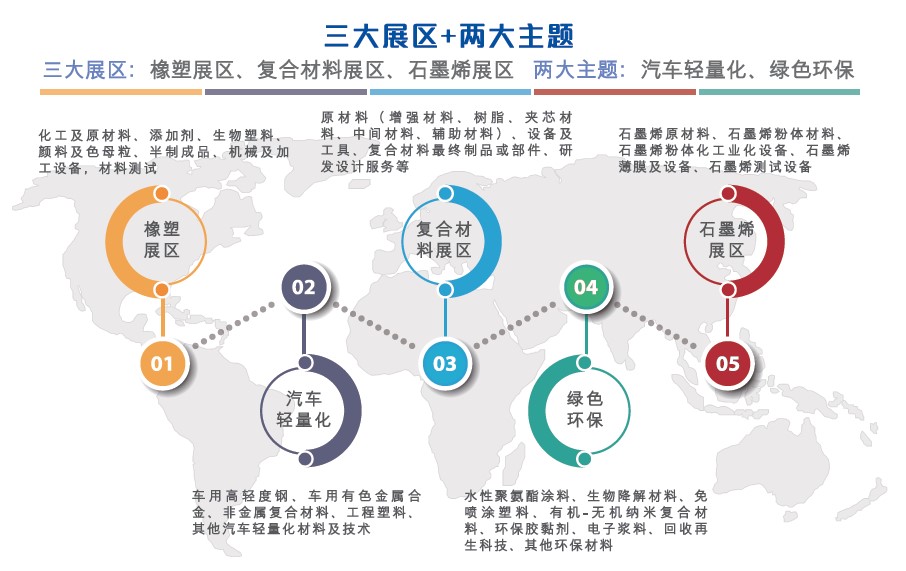 3. Concurrent activities are rich and exciting
Compared with previous exhibitions, the 2018 New Materials Industry Exhibition will take a step forward in the concurrent activities, and jointly plan a number of material theme forums, theme salons, new product technology conferences, supply and marketing matchmaking meetings and other activities with industry partners. Enterprises understand the interpretation of industry policies, market development trends, the latest materials technology and case sharing, etc., and promote cooperation and collaboration between materials companies and universities, scientific research institutes, investment institutions, and end users to achieve the rapid development and industry applications of the new materials industry.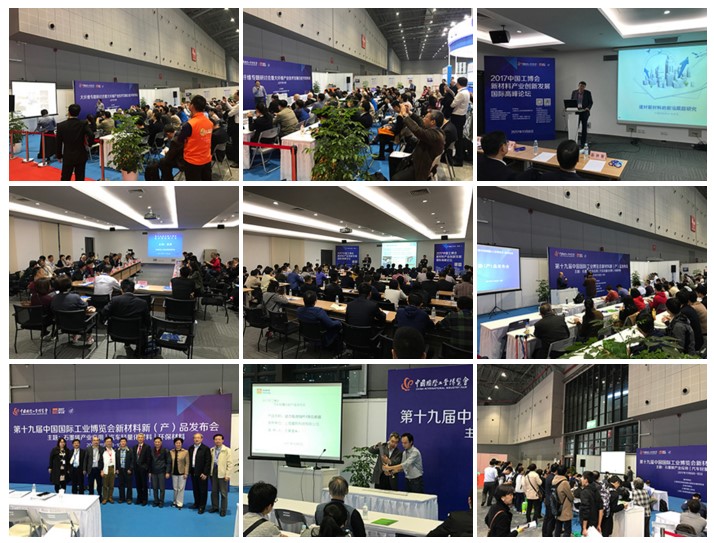 4. Join forces to create a professional event
In order to create the most professional new material industry exhibition in China, the organizers of the CIIF have spared no effort to visit many industry associations, universities, scientific research institutes, including the Chinese Society for Materials Research, the Chinese Society for Metals, the China Nonferrous Metals Industry Association, and China New Materials Testing and Evaluation Alliance, Zhongguancun Material Testing Technology Alliance, Shanghai New Materials Association, Shanghai Aluminum Industry Association, Jiangsu New Material Industry Association, Shenzhen New Material Industry Association, Chongqing New Material Industry Association, Xiamen New Material Industry Association , Shanghai Research Institute of Chemical Industry and others conducted research and obtained their strong support for the exhibition and active suggestions and suggestions. The organizers of the 2018 New Materials Exhibition will work with these partners to do various tasks such as exhibition recruitment, audience organization and publicity, and event planning to improve Satisfaction of exhibitors and professional visitors.
5. Integrated marketing helps companies enhance their brand image and obtain more development opportunities
The CIIF will continue to attract more professional visitors through various publicity channels such as mass media and professional media. At the same time, it will also provide enterprises with more value-added exhibition services and form a one-stop integrated marketing plan, including online industry fair displays. , EDM marketing, WeChat marketing promotion, Industry Fair new material exhibition awards, forums and new product launch conference sponsorship, etc. to enhance the exposure of the company, to help companies establish and strengthen the corporate brand image, gain more professional audience attention, and promote corporate products And the ultimate goal of the technology.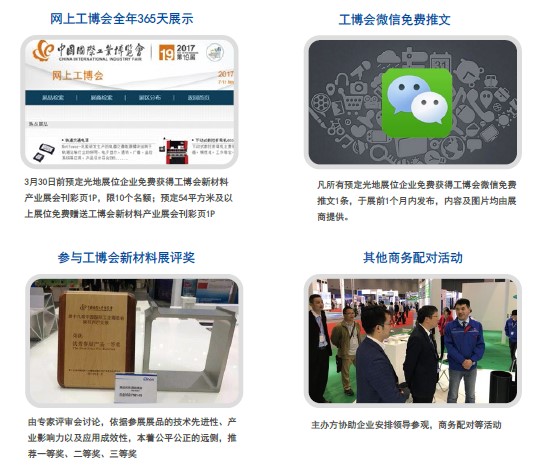 New materials exhibition exhibits scope
Materials for the new generation of information technology industry, high-end CNC machine tools and robotic materials, aerospace equipment materials, industrial gases and equipment, advanced rail transit equipment materials, energy-saving and new energy automotive materials, power equipment materials, agricultural machinery equipment materials, biomedicine and high-tech Performance medical device materials, energy saving and environmental protection materials, graphene, additive manufacturing materials, nano materials, superconducting materials.
Three exhibition areas + two themes
Rubber and Plastic Exhibition Area:Chemicals and raw materials, additives, bioplastics, pigments and masterbatches, semi-manufactured products, 3D printing materials, machinery and processing equipment, material testing instruments.
Industrial Gas and Equipment Exhibition Area:Various industrial gases, gas processing equipment, gas storage and transportation equipment, gas analysis instruments and auxiliary equipment, etc. .
Graphene exhibition area:Graphene raw materials, graphene powder materials, graphene powder industrialization equipment, graphene films and equipment, graphene testing equipment..
Thematic exhibition area of automobile lightweight technology:High-light steel for automobiles, non-ferrous metal alloys for automobiles, non-metallic composite materials, engineering plastics, and other lightweight materials and technologies for automobiles.
Green environmental protection materials and technology theme exhibition area:Waterborne polyurethane coatings, biodegradable materials, spray-free plastics, organic-inorganic nanocomposites, environmentally friendly adhesives, electronic pastes, recycling technology, and other environmentally friendly materials.